All about line art and how to use line art in graphic design
Line art is a powerful artistic expression. It is primitive, but you cannot go without it to make a great design. Though it looks simple, you may see a lot of masterpieces of many famous artists in the form of line drawing.
A line has a lot of power. You can make a fantastic drawing with some lines. You can express your artistic value through line drawing. However, in this article, I will provide you with all the necessary information about illustration, line art design, types of line drawing, and everything you need to know.
So, if you are interested in learning line drawing, stick to the article.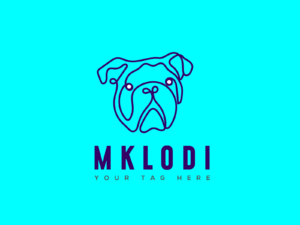 What is Line Art Drawing?
Line art drawing is a drawing that is created with some stroke lines of different angles and dimensions. You can do it manually or digitally. If you do it digitally, shades and gradients are not used. Instead, only lines are used to give the shape of the design.
Besides, the line is not just a simple line. It can be two- or three-dimensional, abstract, implied, or other types. You can draw straight or curved lines, lighter or thicker lines to decorate your art. This art has some fundamental techniques. To express your creativity powerfully, you should learn the methods.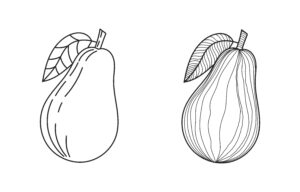 Different types of lines in line art in graphic design
Line drawing is the art of using lines to give a shape or make an illustration. Many styles of lines are found in line art. This article will teach you about art, line types, and their use.
Vertical and horizontal lines
The straight up-down lines used in this art are called vertical lines. They measure the height and strength of the objects. On the other hand, horizontal lines are also straight lines that are parallel horizontally from left to right. These lines are for distance, stability, and width.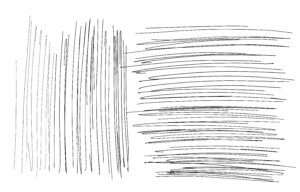 Diagonal and zigzag lines
Diagonal lines are also straight but slant in the direction you want, such as horizontal and vertical. So, the lines suggest movement.
Zigzag lines are the combination of diagonal lines that are joined in form. They suggest excitement and anxiety.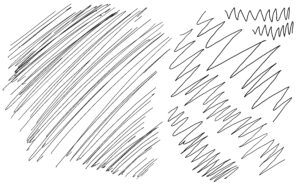 Curved lines
Curved lines change the direction and like wavy and spiral. They suggest a comfortable feeling and sensual quality.
Line types according to the use
Now according to the use of lines in the art, I will show you the lines. They are of different types: contour lines, parallel lines, cross-hatching lines, continuous lines, implied and decoration lines, gesture lines, etc.
Contour lines
To outline a shape, contour lines are used. You can use the lines inside or outside of the shape. In some cases, the same width contour lines are used. And many artists also use different width contour lines to give the figure more volume.
If you can draw with contour lines correctly, you can draw a simple but impressive piece of artwork.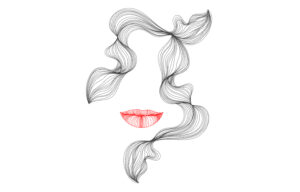 Gesture line
A gesture drawing is a line drawing that captures the main subject without the details. Use expensive lines to draw your object.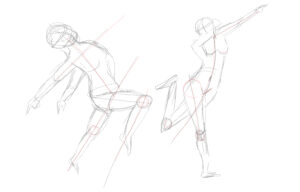 Continuous Line
A continuous line is not the outline of an object. Use your pencil to lift it back and forth on the surface with lines in one free-flowing, unbroken line. You can use a pen to draw a continuous line. This drawing grows confidence to work with your hand and brain together.
It provides a profound observation of the object that you think in mind. But unfortunately, continuous line art is costly.
Parallel or cross-hatching line
This line type is used to make shade, pattern, or texture artwork. It is an essential type of line when you sketch anything. When you use more lines, the area of the objects seems darker or like a shadow.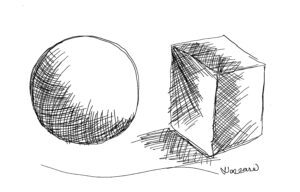 Why do you learn line drawing as an artist or graphic designer?
Without line art, it is not possible to be an artist. It is a practice work to be an artist. With line drawing, you can explore the world as an artist. It opens the door to creativity for you. You cannot do well in digital painting or digital art without learning line drawing.
Line drawing is as essential for an artist as the bones and structure of the human body. It allows you to draw a masterpiece. With a brush stroke or a line, you can exercise the actual observation of nature. Just follow the signals from your brain and use your pencil or brush stroke to draw art.
So, it is essential to recognize your way of drawing. Here lines are the matter.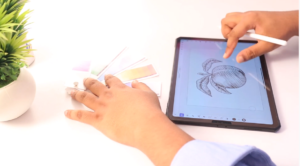 Why do we use lines in line art drawing
Lines are the essential elements of art. It is like the fingerprint of the artist and also a fundamental tool. When you draw enough lines on the canvas or your illustrator, the meaningful lines make fantastic art. So let's know why we draw lines to make art.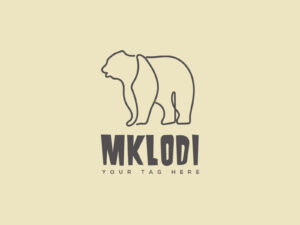 For identification
The functions of this art style bring the sense of the object's shape. You can obtain an illusion of two or three-dimensional Space with lines. The process is like a singer who use musical scales to sing his song.
Capturing the Outline
You cannot do it without lines when you want to capture an object. Lines provide you with the opportunity to draw the object's shape. To make the shape of an object, the artist uses contour lines. Contour lines are the outline of the thing.
At first, the artist sees an object and tries to understand the shape. Then he draws a line to give it a form. Now, they do not remove the tool from the software or paper to draw the shape.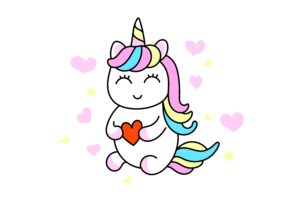 Exercises
To learn sketch, there is no way without drawing lines. Lines are the fundamental tools for learning drawing. To draw a sketch, you can use circular or cross-hatch lines. Drawing lines in a sketchbook makes the artist mentally and physically strong to draw anything. In gesture drawing, you can use any line to draw the structure of an object and its movement.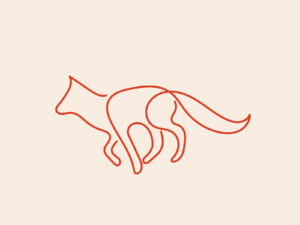 Three-Dimensional and two-dimensional Space
There is no way to make three-dimensional or two-dimensional drawings without a line. Use horizontal, vertical, or other line types; you can make a real object.
Best ways to use lines in line art in graphic design
To do line work, you should think about your artwork. You can use various lines of different widths. The curved lines make a line artwork attractive. But it is better to minimize carved lines when making a delicate art piece.
You can try cross-hatching and diagonal lines to draw an art piece to show anxiety. I hope you understand the process of using lines in the art to make a meaningful art piece.
What can you do by learning line art as a graphic designer?
Line art is an essential skill for artists and an incredible skill for graphic designers. With only different types of lines and line drawing, you can work as a graphic designer and earn money by completing various projects. Now I am going to show you how you can make money from line drawing and the sectors of graphic design with line drawing. Let's continue.
Line art logo
These logos are the minimal type logo. Many people love minimalist line art logos for their business identity. This logo contains symbols with text. According to the business, the designer makes a minimal line drawing of the related thing as a symbol. The sign presents the concept of the business.
The logos look so elegant, minimal, and clean. For a company, it is vital to stay relevant. The logo, logo name, tagline, etc., are essential. People easily keep a simple and iconic logo in mind for a long time.
You will find the value of the line drawing logo if you research different marketplaces.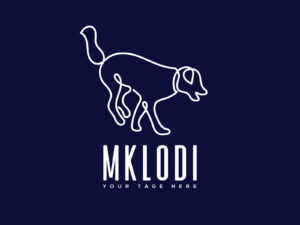 Coloring pages
Another trending illustration for graphic designers to sell in different marketplaces is the coloring pages. Amazon KDP books or coloring pages are great items to sell. If you learn this art and are creative to imagine objects, you can draw coloring pages for both adults and kids. Animals, flowers, vehicles, and many more items can be drawn as coloring pages.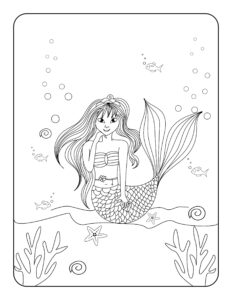 One line art
The demand for line drawing is also high in the market. After becoming an expert in line drawing illustration, you can draw one-line art, face line art. One-line arts are very minimal, simple, but attractive. When you keep someone's art in your room's frame, the room's look changes, you can also sell one-line art illustrations in different marketplaces.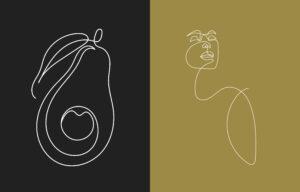 Abstract line art
Abstract line art is another popular category of line art. Here, there is no accurate representation of objects, and only one-hand lines are used to create the shape of the objects. You may see this line art type in different show pieces and décor items.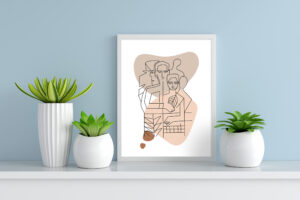 Line art tattoos
Line art tattoo is also now hot cake. If you search, you will find a lot of tattoos of this type in the marketplace and on different service-providing websites. The tattoos look beautiful. One or two colors are used in the tattoos, and they seem slightly more realistic than other types of line art.
Flower line art
The demand for this line of art is also high for various print items, tattoos and decors. It is now trendy. Coloring pages, clothes, and other print items contain flower line art. You can earn a good amount if you are an expert in this art.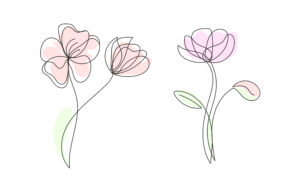 Summary
I try here to give you most of the necessary information about line art. Without this art, you cannot go far as a graphic designer. Besides, the market value of this art is also high. So, try to understand all types of lines in line drawing and where to use them properly. Besides abstract line art, line art tattoos are now trendy.
This all design are my own creation. For any design project feel free to contact with me, thank you.