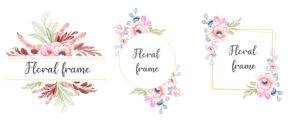 Watercolor is a very interesting part of my design skill .Nowadays watercolor is part and parcel of graphic design sector and very popular. However, my full watercolor illustration process are described below
Firstly, I sketch the full imagination of my mindset design or according to client requirement on watercolor paper then start painting step by step first wash second third wash after completing the painting scan on photoshop . After take it on photoshop edit some color and remove some noise then moved it on illustrator program for final look. This is my short watercolor illustration process.
If you are searching unique watercolor logo, watercolor floral, watercolor illustration, watercolor wedding invitation card you are in the right place to see my service just click here .watercolor service
This all design are my own creation. For any design project feel free to contact with me, thank you.